Harland Clarke Holdings Corp. Leadership
Chuck Dawson
President and Chief Executive Officer
Harland Clarke Holdings Corp.
Chuck Dawson is the President and Chief Executive Officer of Harland Clarke Holdings Corp., which overseas Harland Clarke, Harland Financial Solutions, Scantron, GlobalScholar, and Faneuil. Prior to his current responsibilities, he served in key leadership roles as President and Chief Executive Officer of Clarke American Corp. (appointed in 2005), Executive Vice President and General Manager of Partnership Development (2003 - 2005) and as Senior Vice President and General Manager of National Account, Securities and Business Development (2000 - 2003). Chuck's more than 35 years experience in the security printing industry includes serving as Chief Executive Officer of Rocky Mountain Bank Note before joining Clarke American in 1992. He began his career with IBM. Chuck holds a Bachelor of Arts degree in marketing and a Master of Business Administration degree from Lamar University.
Dan Singleton
President and Chief Executive Officer
, Harland Clarke
Chief Operating Officer, Harland Clarke Holdings Corp.

Dan Singleton is President & Chief Executive Officer of Harland Clarke and Chief Operating Officer of Harland Clarke Holdings Corp. As CEO of Harland Clarke, he leads its Leadership Team and more than 4,500 employees in the company's support of its 15,000 financial and commercial clients. Dan also provides oversight and support of the GlobalScholar and Faneuil businesses from the holdings company perspective.
Dan has been a leader in the payment solutions industry for most of his 28-year business career. After holding positions at two Fortune 1000 companies, he joined Harland Clarke and was rapidly promoted through the sales organization, including leading the national major account team. He left the organization to gain global experience leading the sales, marketing and international efforts of a $1.1 billion manufacturing company, returning to Harland Clarke in 2006. As Executive Vice President, Dan assumed responsibilities for all client-facing activities, including sales, marketing, account management, and customer service. In 2008, Dan took the helm as Chief Operating Officer and President of Harland Clarke, managing all aspects of the Harland Clarke organization, including financial results, strategy, sales and marketing, manufacturing, delivery and execution. He became Harland Clarke's CEO in 2012 and COO of Harland Clarke Holdings Corp. in early 2013.
Dan Singleton is a member of the Executive Leadership Team of Harland Clarke Holdings Corp. and is the founding sponsor of the Harland Clarke Diversity Council. His community involvement includes membership on the boards of directors of the Texas Diversity Council, Georgia Perimeter College, and Mission Team Inc. Dan received a Bachelor of Science degree in Business Administration from the University of Florida.
Raju Shivdasani
President and Chief Executive Officer
Harland Financial Solutions, Inc.
Raju (Raj) Shivdasani is the President of Harland Financial Solutions. His career spans more than 30 years in the financial services technology arena including previous roles as President of Phoenix International and president of Fiserv CBS Worldwide. During the 1980s, Raj led several business units for Citicorp Information Resources and co-founded Vista Financial Systems. Raj holds a Bachelor of Commerce degree from St. Xavier's College, Calcutta, India, and a diploma in Programming Technology from Control Data Institute, Los Angeles, California.
Kevin Brueggeman
Chief Executive Officer
GlobalScholar and Scantron
Kevin Brueggeman is the Chief Executive Officer of Scantron and GlobalScholar and is responsible for all areas of both brands. Together Scantron and GlobalScholar focus and invest in achievement and assessment solutions to meet the most critical customer needs with differentiated and best of breed products. Scantron helps education, commercial and government organizations worldwide measure and improve effectiveness with assessment and survey solutions through its data collection business including its popular scanners and forms. Kevin's more than two decades of testing and assessment experience includes 15 years in top executive roles in major education industry organizations. As President and CEO of Triumph Learning, he started its transformation from a print to a digital media education business. This was preceded by seven years with Pearson Education culminating in leading Pearson's new technology start-up business, Assessment for Learning, as its CEO. Kevin's first role with Pearson was as the President of Educational Assessment, its $100 million K-12 educational assessment business that was created from the merging of assets from Pearson and Harcourt Assessment. Prior Kevin served as president of Harcourt's Education Division. Kevin's previous top executive roles were as President of AGS Publishing and President/CEO of Experior Assessments. Kevin holds a bachelor's degree in Psychology from the University of Wisconsin - La Crosse and while at National Computer Systems completed the Minnesota Executive Program at the University of Minnesota.
Anna M. Van Buren
President and Chief Executive Officer
Faneuil, Inc.
Anna M. Van Buren serves as the President and Chief Executive Officer of Faneuil, Inc., a position she has held since 2009 after previously serving as the company's President and Chief Operating Officer, Senior Vice President of Faneuil's Government Services Division and Vice President of Business Development. In her current role, she oversees all operations of the nationally recognized provider of outsourced business processing solutions. Faneuil's more than 3,300 employees are based in multiple states and manage nearly a half-billion customer touchpoints each year. Anna's 30 years of business and leadership experience includes operation of government services, marketing and media companies. Her expertise in building productive and enduring relationships with clients has driven Faneuil's success since her instrumental involvement in winning the firm's first major government contract in 2005, establishing a highly valued client partnership that continues to thrive today. Ms. Van Buren operated numerous companies involved in government contracting and marketing before coming to Faneuil in 2004 including The Daily Press, Inc., a diversified multimedia company that gathers, packages and distributes news, information and advertising throughout Southeastern Virginia where she served as a senior executive and board member. In this capacity, Anna was responsible for acquisitions and the expansion of the company's cablevision divisions. Anna has served in several leadership roles including chairmanship of the United Way of the Virginia Peninsula, the Peninsula Chamber of Commerce and the NASA Aeronautics Support Team. She is the recipient of numerous awards including the Women in Business Achievement Award by Inside Business Magazine, the Presidential Citizenship Award from Hampton University and the NCCJ Humanitarian Award. Ms. Van Buren holds a degree from Hollins University and the University of Virginia Executive School.
Peter A. Fera, Jr.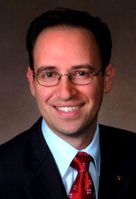 Executive Vice President and Chief Financial Officer
Harland Clarke Holdings Corp.
Peter Fera was appointed Executive Vice President and Chief Financial Officer in May 2007. He was Senior Vice President and CFO prior to his promotion to executive vice president. Previously, Peter was with Honeywell for seven years and held a variety of leadership positions in finance and marketing. Most recently, from October 2003 to April 2005, he served as Chief Financial Officer for the Aircraft Landing Systems business of Honeywell. At Honeywell, he also served as Director of Finance for Business Analysis and Planning from February 2002 to October 2003 and Global Marketing Manager from October 2000 to February 2002. Earlier in his career, he held operations and engineering roles at General Electric. Peter holds a Bachelor of Arts degree in mechanical engineering from the University of Pennsylvania, a Master of Arts degree in mechanical engineering from the Massachusetts Institute of Technology and a Master of Business Administration degree in management from MIT's Sloan School of Management.
Judy Norris
Senior Vice President and General Counsel
Harland Clarke Holdings Corp.
Judy Norris was appointed Senior Vice President and General Counsel in September 2006. Prior to joining Clarke American, Norris was in-house counsel for Blockbuster, Inc. from 1998 until 2006, with her most recent position as Senior Vice President and Co-Head of the Law department. While at Blockbuster, a NYSE-listed company, she gained experience in a variety of domestic and international business operations as legal counsel, including litigation and compliance, government affairs and advocacy, international matters, securities reporting, consumer and privacy matters and vendor contracts. From 1983 to 1998, she was a partner at Thompson & Knight, P.C. with a complex commercial and antitrust litigation practice. Judy holds a Bachelor of Arts degree, magna cum laude, from Maryville College and a Juris Doctorate degree from Vanderbilt University School of Law.
Andrew R. Bland, III
Senior Vice President Corporate Security Group
Harland Clarke Holdings Corp.
Andrew R. Bland, III serves as the Senior Vice President of Corporate Security. He assumed this position in January 2010 after initially joining the organization in May 2009 as Harland Clarke's Vice President of Corporate Security. Andrew and his team are responsible for providing strategic oversight, centralized program management and comprehensive security and risk management methodologies to protect HCHC's personnel, data and facilities. A 23-year veteran of the FBI, Andrew's last assignment prior to joining HCHC was as Special Agent in Charge of the FBI's Houston office. He also served as the Senior Level Executive and Attaché in Baghdad, Iraq; the deputy Assistant Director of the Inspection Division at the FBI Headquarters; and as Special Agent in Charge of the FBI Academy. In recognition of his distinguished service, Andrew received the 2007 Presidential Meritorious Rank Executive award, given to a select group of civil service employees each year and conferred by the President of the United States. Andrew holds a Bachelor of Science degree in engineering from the United States Military Academy at West Point. He successfully completed both the U.S. Army Airborne and Ranger Schools at Fort Benning, Georgia and also led a combat arms unit in Northern Germany during his six-year military career.
Andrea Turk
Senior Vice President Innovation, Performance Excellence and Communications
Harland Clarke Holdings Corp.
Andrea Turk is the Senior Vice President of Innovation and Performance Excellence, a position created in 2010 to build upon the organization's foundational business model and Andrea's proven record as a leader in quality management. Andrea joined Clarke Checks more than 20 years ago and during the past two decades has been entrusted with increasing levels of responsibility in Operations, Sales Support and Performance Excellence. In the latter capacity, she was one of the lead drivers of Clarke American's Malcolm Baldrige Award for Quality in 2001. In 2009 she led a project development team that built an online application that maximizes the company's print-on-demand capabilities — one of the first broad-based efforts to launch e-commerce exclusively through a social media network. Andrea graduated from Texas A&M University.