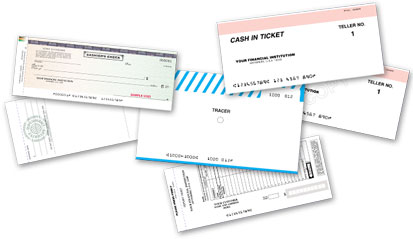 Harland Clarke is the supplier of choice for leading financial institutions nationwide. Our systems, service and quality work together to help you maximize control and contain cost – the keys to managing your business productively and profitably.
Harland Clarke offers a variety of standard and custom forms to suit your unique business needs, including:
Cash Tickets, Notices, Official Checks, Lobby Forms, Teller Receipts, Control Documents, General Ledgers; Accounts Payable, Payroll and other Checks
Experience You Can Trust
With more than 200 years combined experience, Harland Clarke is your financial forms specialist. Our documents offer consistent, dependable performance with any image processing systems.
We offer flexible formats, color-coding and printing, guaranteed MICR quality, and total customization capabilities — all with fast turnaround times. We produce documents quickly so your warehousing and obsolescence costs are virtually eliminated. We also ship documents directly to specified branch and department locations promptly and accurately.
Harland Clarke's Financial Forms and Services experts can help you with:
Standardization
– For the best value, we offer standard documents for all your needs. Just choose the style that's right for you. When you need financial forms fast, this is your ticket.
Conversions
– Harland Clarke works with you to consolidate and standardize your documents for conversions. Our service and expertise are unsurpassed.
Ordering
– Harland Clarke's web ordering system,
f

orms.center

,
is among the best ordering systems available. Simply login to the secured ordering site and order your forms with your specifications. Update the forms with your specific personalization and see a WYSIWYG (what you see is what you get) display. Additionally, orders can be placed from a central location or any of your locations by mail, toll-free telephone or facsimile transmittal.
Customization
– If you still need something different, we can design and print documents from your specifications. As your needs change, we quickly modify these items to meet them. It's just one way our flexibility works to your advantage.
For printed brochures or more information and prices, please contact us at
1.800.552.2902
Option 1